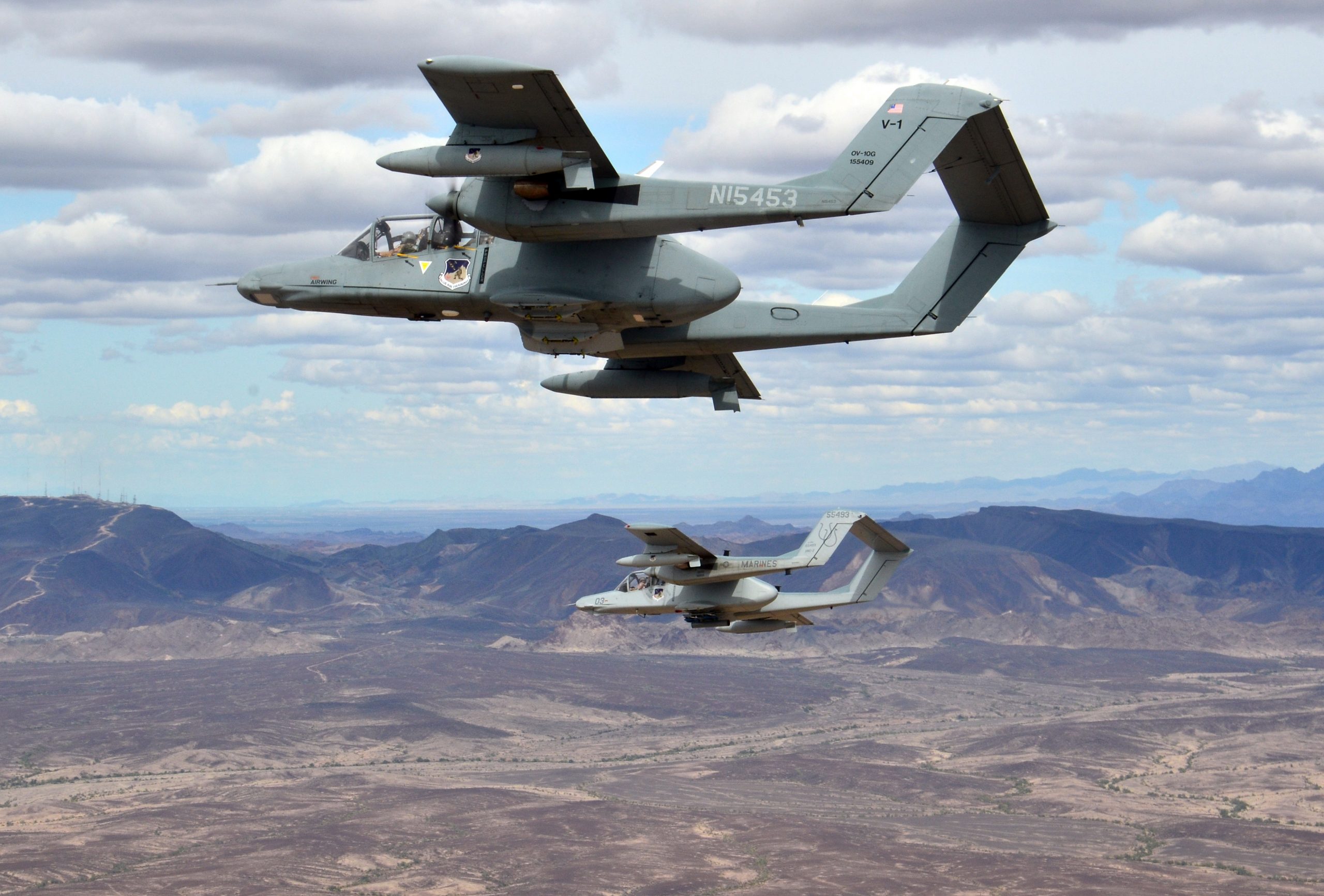 Blue Air Training has integrated the highly reliable, cost effective, multi-purpose light attack OV-10 Category E "jet class" into training missions. The versatility and reliability of the Bronco make this aircraft an ideal Joint Terminal Attack Controller (JTAC) training platform, with in-theater endurance topping five hours. 
The OV-10 was initially conceived in the early 1960s and designed for rugged, simple, close air support, integrated with reconnaissance and forward ground operations. The Bronco's missions included observation, forward air control, helicopter escort, armed reconnaissance, gunfire spotting, utility and ground attack.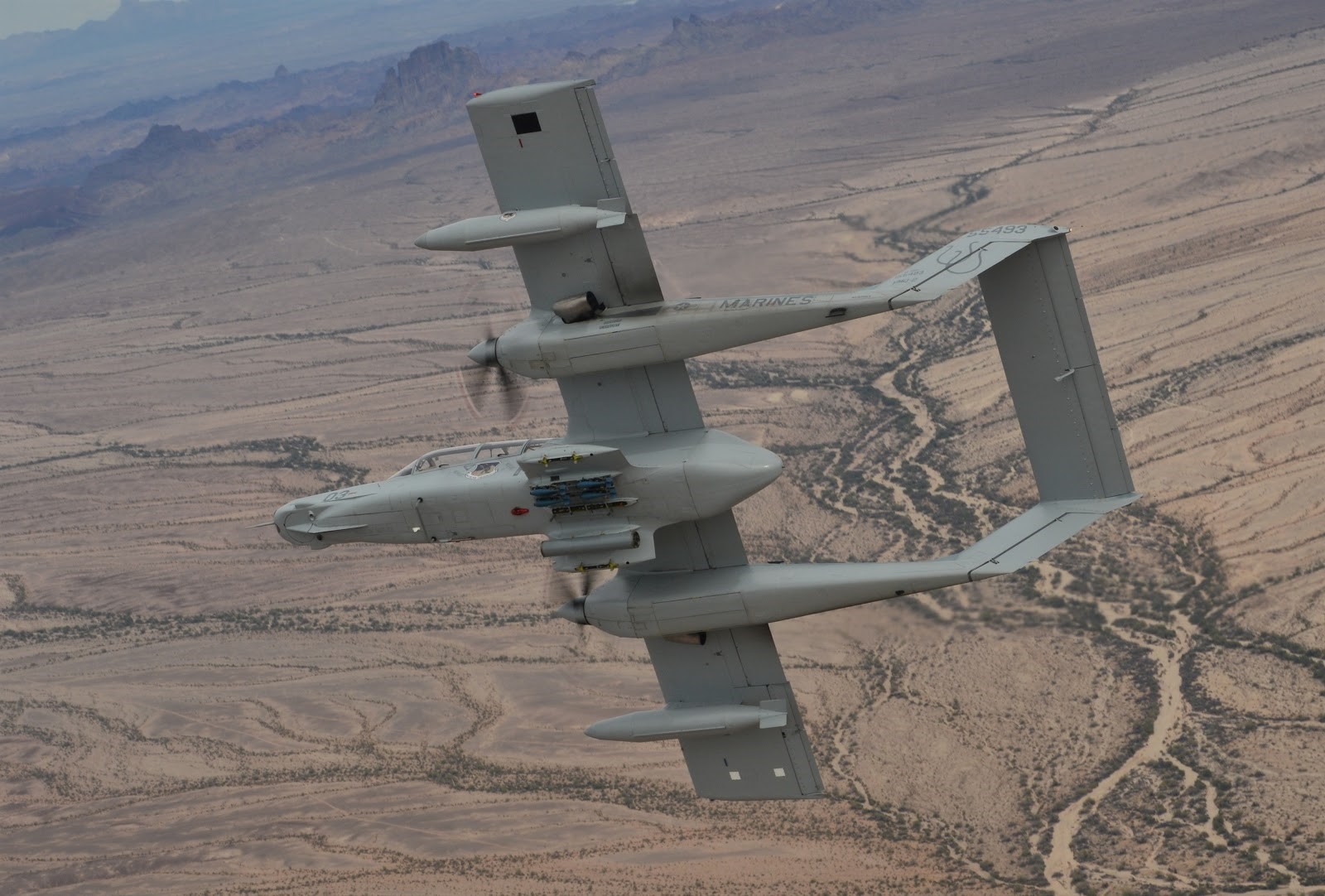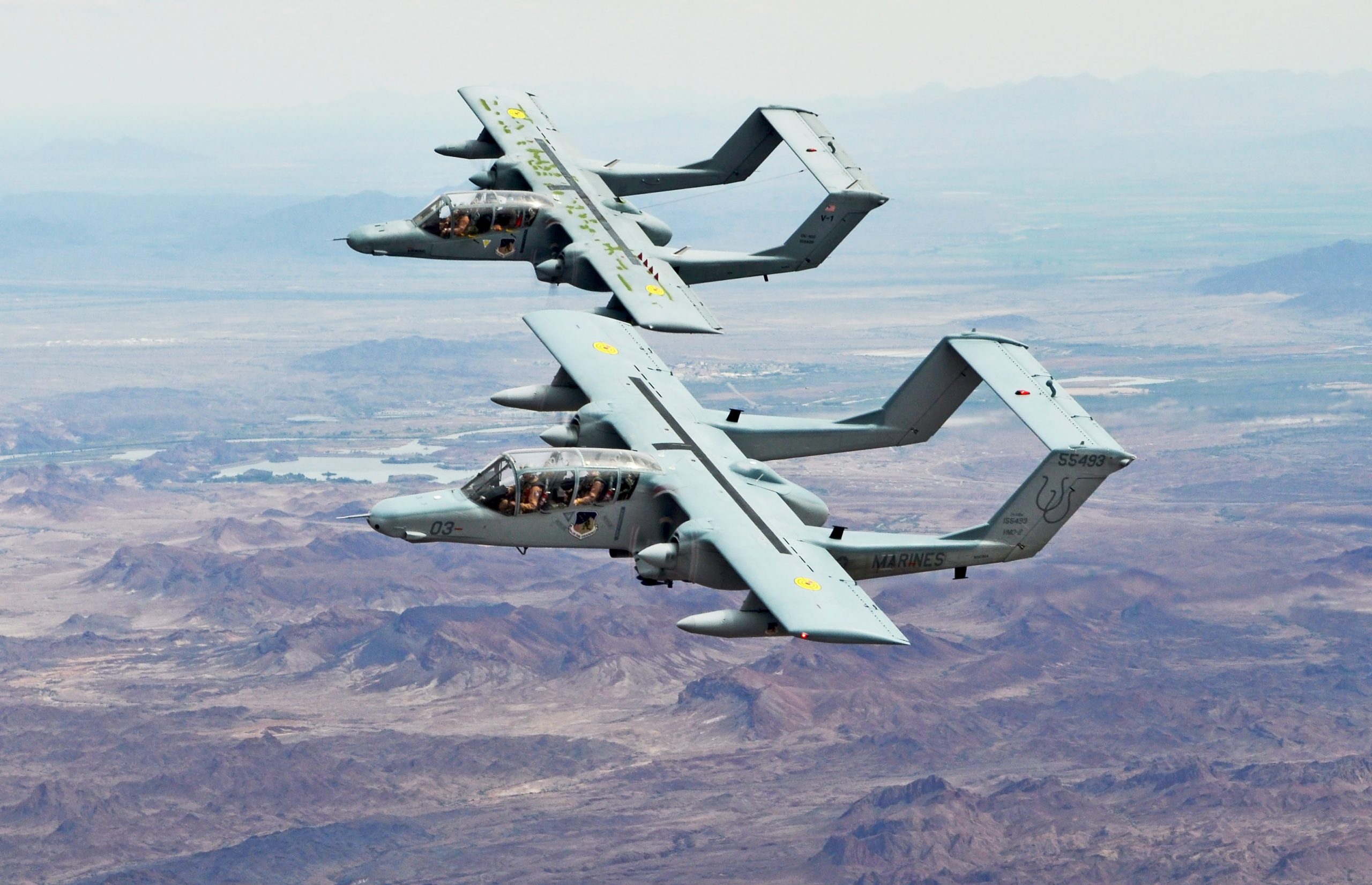 The OV-10 was used for decades and flew with three branches of the military, the U.S. Air Force, U.S. Navy and U.S. Marines, along with several allied militaries. Besides the military, other U.S. agencies who flew the OV-10 include NASA, State Department Air Wing, Bureau of Land Management, California Department of Forestry and Fire Protection to name a few. Most recently, U.S. Special Forces have used the OV-10 in several operations in active theaters combating ISIS. 
CAPABILITIES AND PERFORMANCE
Crew: 1 Pilot / 1 MSO
Capacity: 2 Aircrew and up to 3 additional personnel or 3500 lbs of cargo 
Dimensions: 44 ft long x 40 ft wingspan x 15 ft tall 
Max Gross Weight: up to 15,000 lbs with external stores 
Powerplant: 2 Garrett T76-G-420/421 turboprop engines 
Upgraded advanced avionics and glass cockpit to include ADS-B and satellite weather 
Night and Loft delivery capable 
Cruise speed: 300 KTAS 
Maximum Speed : Vmo 350 KIAS / 463 KTAS 
Climb: 3,400 feet per minute 
Range: 1200 NM (2 x weapons stores / 2 x fuel tanks at 20,000 feet) 
Endurance: 5.0+ hours 
Service ceiling: FL320 
7 x Hardpoints, capable of carrying:  
Bombs: MALTS-4 Smart Weapons Rack, 4 x BDU-33 or 2 x Laser Guided training Rounds (LGTR) per bomb rack 
Gun: 2000 rounds of 7.62mm in 4 x Sponson mounted machine guns 
Rockets: 7 x 2.75" Rockets per LAU-131 rocket pod 
Extended range external fuel tanks 
Link-16 for Digitally aided Close Air Support (DaCAS)
Multiple UHF and VHF radios provide pilots with seamless communications with the airmen on the ground
Cursor On Target communications NAV suite allows the crew to execute DaCAS at night
SETTING A NEW TRAINING
STANDARD
"As a career A-10 Pilot, I've always had a tremendous respect and appreciation for the OV-10 Bronco. Its unique look and mission focused design rings true to my heart. In our configuration of 8 bombs, 7 rockets, 2000 rounds, FLIR, and LINK-16 there is no wonder why this aircraft was recently selected to take the fight to ISIS. For those very reasons the seven OV-10D+ and OV-10G Broncos we are adding to the Blue Air Close Air Support fleet are undeniably the best JTAC training platform in the air, anywhere."  – Founder and CEO, James "Chef" Barlow.