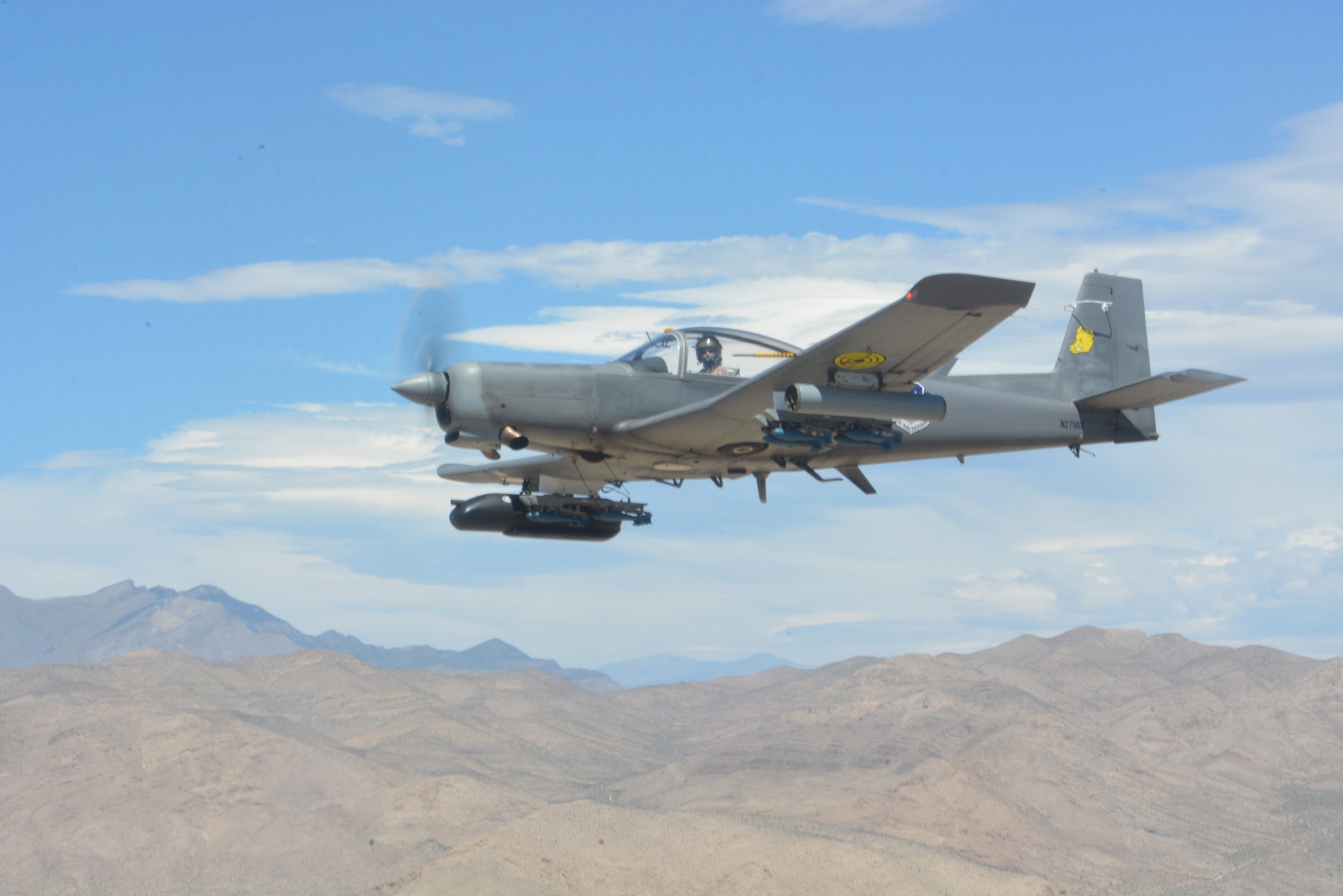 The A-90 Raider is an optimally designed aircraft used for Close Air Support (CAS) training, exclusively by Blue Air Training. The A-90 Raider is extremely effective as a JTAC training platform due its incredibly long endurance, upgraded communications, and the  ability to carry weapons systems for realistic training.
Originally known as the L-90, the aircraft was designed and manufactured by Valmet in the 1980s, making its first flight in 1986. The Redigo was developed as a military trainer aircraft primarily used for pilot training and airframes were produced for the Finnish Air Force, the Mexican Navy, and the Eritrean Air Force. Italian aircraft manufacturer Aermacci later bought the license to produce the Redigo, rebranding it as the M-290. While it has always carried the hardpoints for weapons, it has not been used for that role. Until now.
In 2017, Blue Air Training procured the remaining equipment, parts, and spares from Valmet. After importing the aircraft and upgrading them to meet the requirements of Blue Air Training's current and future contracts with the United States Air Force, the new U.S. version was rereleased as the A-90 Raider. Blue Air Training currently has eight Raiders in their fleet.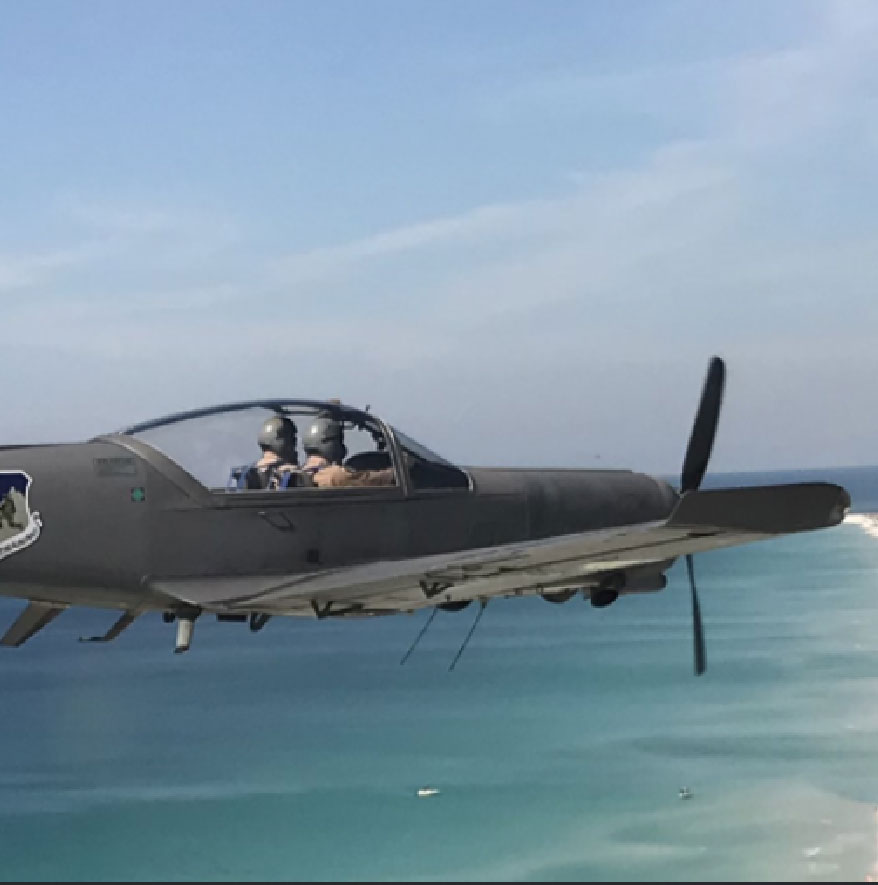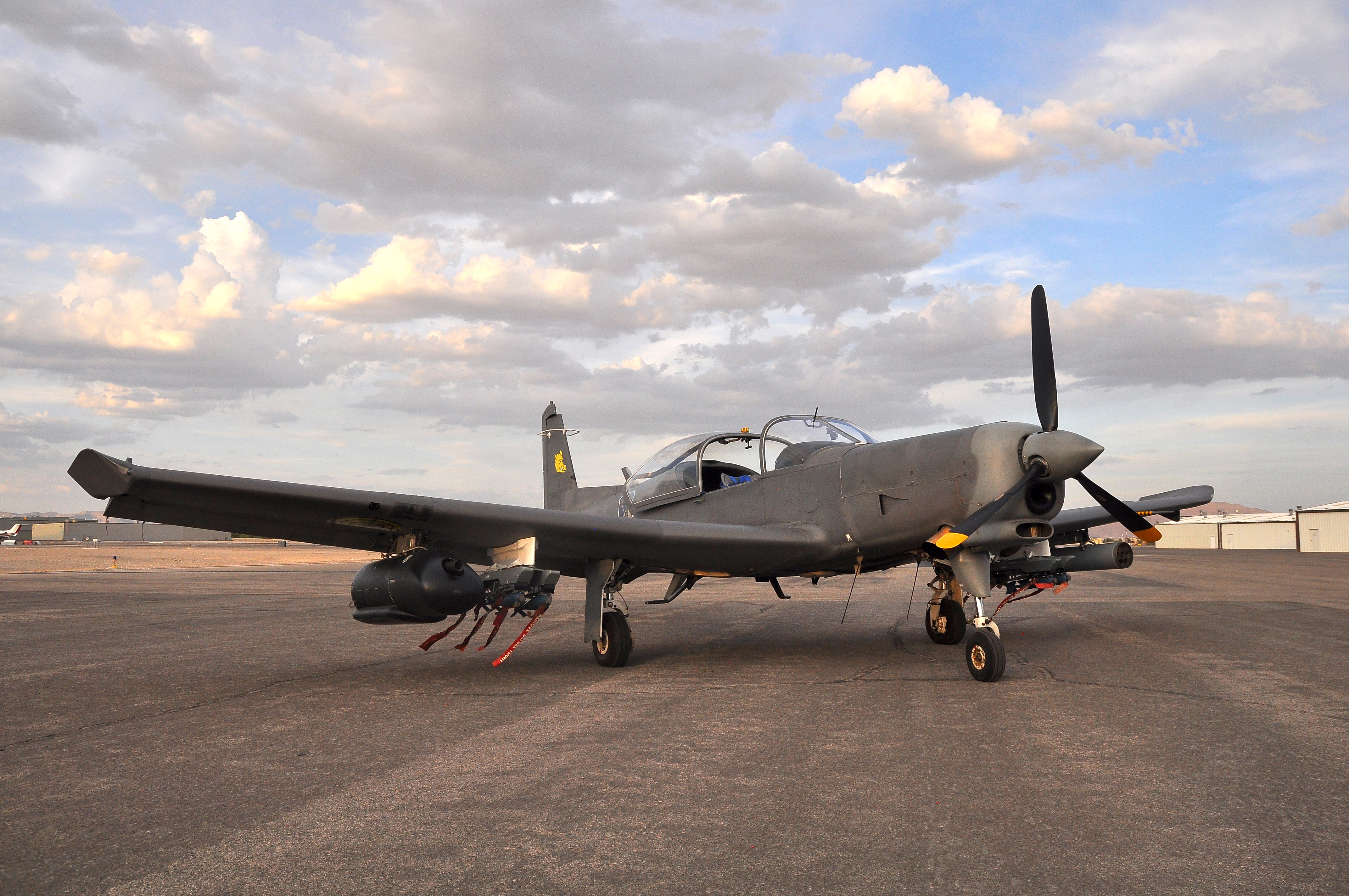 CAPABILITIES AND PERFORMANCE
Crew: 2 pilots
Capacity: 2 troops
Length:
Gross weight:
Max takeoff weight:
Powerplant: Rolls-Royce M250 B-17F turboprop engine
The fuselage is made from an all-metal, fail-safe,
semi-monocoque structure.
Upgraded advanced avionics and glass cockpit to include ADS-B and satellite weather.
Digital Oxygen system thereby enabling aircraft operation to 25,000′.
Heads Up Display enabling night and loft deliveries.
Cruise speed: 190 knots true airspeed (KTAS)
Maximum speed: 280 knots
Climb: 2,697 feet per minute
Range:
Endurance: 4.5+ hours
Service ceiling: FL250
Guns: BDU-33s, 500 rounds per gun pod of 7.62 mm strafe
Rockets: 275″ Rockets
Two laser-guided training rounds (LGTR's) on each Harris MALT-4 hardpoint.
A Harris ANW2 Mesh Network and Trellisware TSM-X
Practice Bomb rack to employ BDU-33 and Laser Guided Training Rounds (LGTR)
Cursor On Target communications nay suite allows the crew to execute digitally aided close air support (DACAS) at night.
Two Encrypted Multiband UHF/FM/ VHF radios provide pilots with seamless communications with the airmen on the ground.
The ability to utilize tactical datalink through the Harris ANW2 Mesh Network.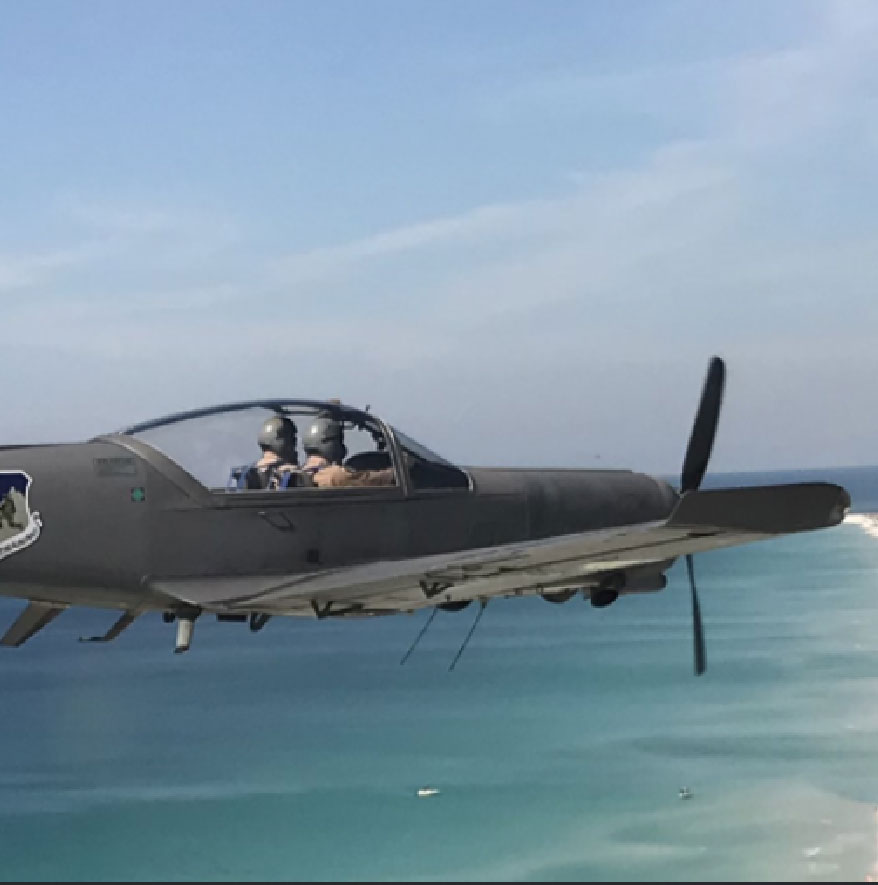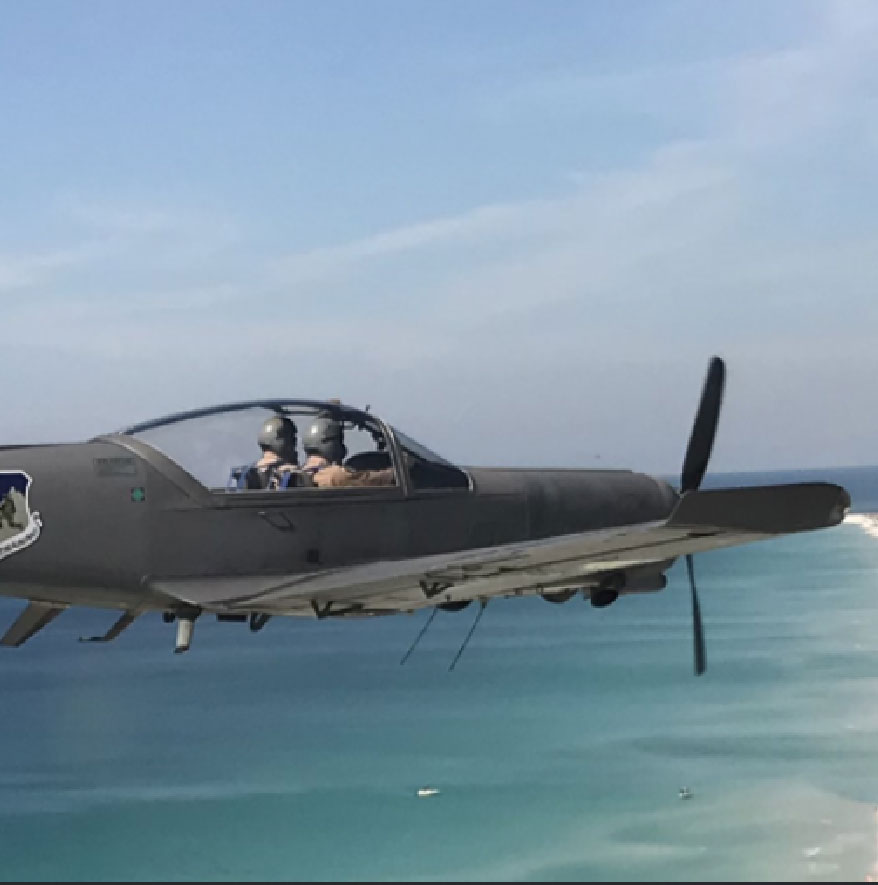 A major advantage to using a turboprop aircraft, like the A-90 Raider, is the capability to remain in an orbit over the target area for longer periods. Due to the nature of close air support training missions, aircraft are often required to circle an area while the JTACs on the ground run through their scenario and prepare the mission profile before calling for pilots to make their target run. The Raider can remain on station for more than four hours, which greatly exceeds the Air Force's standard.
 The A-90 Raiders have been equipped with a single barrel 7.62 light gun pod manufactured by Blue Air Training, a forward looking infrared (FLIR) sensor pod. The bomb racks have been upgraded and the radio and oxygen system layouts in the cockpit are improved.
Setting a New Training Standard
With their new fleet of Raiders, Blue Air Training will lead the way in providing the best and most cost-efficient training experience for our clients personnel to perform the difficult but essential mission of calling in close air support on current and future battlefields.